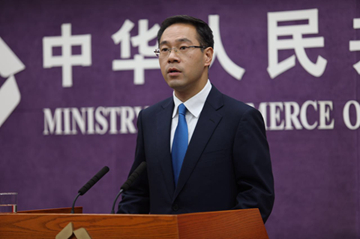 Intro: An excerpt from a press conference at the Chinese Ministry of Commerce (MOFCOM) 商务部 published by the online news outlet The Paper (Pengpai 澎湃) on 12 December 2017 shows that China is paying attention to the international debate about its aid motives.
At the press conference, a Xinhua News 新华社 representative asked MOFCOM's spokesperson Gao Feng 高峰 to comment on an Associated Press news release about the recently published "Global Chinese Official Finance Dataset" by the research group AidData.
Xinhua: We have noticed that in November [2017] Associated Press reported that the research organization AidData at the US College of William and Mary has issued a report. According [to this report], between 2000 and 2014 China had provided to Africa a total of 354.4 billion US-Dollar in aid and loans. For the same period, loans by the United States amounted to 394.6 billion US-Dollar. The report also stated that the total amount of Chinese government aid and loans to developing countries is getting close to that of the US, but that its primary purpose seems to be the promotion of Chinese exports and China's own interests. The benefits for recipient countries are not that many. Does MOFCOM have any comment on that?

新华社记者:关注到美联社11月报道称美国威廉玛丽学院的一援助数据这个研究机构发布了一份报告称,2000年到2014年期间中国向非洲等地提供的援助级贷款总计3544亿美元,同期美国的贷款总数是3946亿美元,这份报告还称,中国向发展中国家提供的政府援助和贷款方向,总体的总数正在接近美国,但是大部分好像是为了在促进中国出口的信贷以及服务于中国的自身利益,而对受援国的好处并没有那么多,商务部对此有何评论?
The comment provided by MOFCOM's spokesperson Gao Feng was to a large extent a recitation of tifa 提法, "formalized (correct) political expressions" (or watchwords) used deliberately by the Chinese Communist Party to articulate politically sensitive topics.
Gao Feng: Since a long time, China has provided aid in accordance with its own capabilities in the framework of South-South Cooperation, it is mutual assistance between developing countries, it is mutually beneficial, does not impose any political conditions and follows the principle of non-interference in the domestic politics of recipient countries. As for numbers, the report probably has confused Chinese foreign aid funds with all kinds of other funds, including commercial funds. Chinese foreign aid should primarily serve the urgent needs of recipient countries and is targeted to areas that improve people's livelihood such as agriculture, health, education and infrastructure development. Aid should serve local economic and social development, improve the self-development capacities of recipient countries, and promote local social progress.

高峰:长期以来,中国在南南合作框架下对外提供力所能及的援助,是发展中国家的相互帮助,遵循平等互利,不附带任何的政治条件,不干涉受援国内政的原则。研究报告的数据可能混淆了中国对外援助的资金和其他性质的各类资金,包括商业性的资金。中国对外援助主要是应受援国的急需,使用在农业、卫生、教育、基础设施等民生领域,服务于当地经济和社会的发展,提高受援国自身经济发展的造血能力,促进当地的社会进步。
How to understand this comment? The first sentence is basically a summary of The Eight Principles of Foreign Aid (full title: Eight Principles for Economic Aid and Technical Assistance to Other Countries 对外经济技术援助八项原则) which were announced by Chinese Premier Zhou Enlai 周恩来 during his visit to Africa in 1964 and which, according to China's Foreign Aid White Paper, are till today the guiding principles of Chinese aid. The last two sentences list the current priority areas of Chinese foreign aid from the perspective of MOFCOM. Here, it's worth  paying attention to which state actor mentions what and when (for example, Xi Jinping frequently talks about assistance in the area of environment, but that's not mentioned here). Most interesting however, is the statement that AidData "probably has confused" 可能混淆了 commercial and official number. Mr. Gao did not say that the estimates were wrong, nor did he provide alternative numbers. Which could mean that maybe MOFCOM really doesn't have the complete picture due to the highly fragmented nature of the Chinese aid system.
Source: "Ministry of Commerce refutes that Chinese aid to developing countries serves China's own interests: There are no political conditions" 商务部回应中国援助发展中国家是为自身利益:无任何政治条件, China News Service 中新网, 12 December 2017. Published in The Paper 澎湃