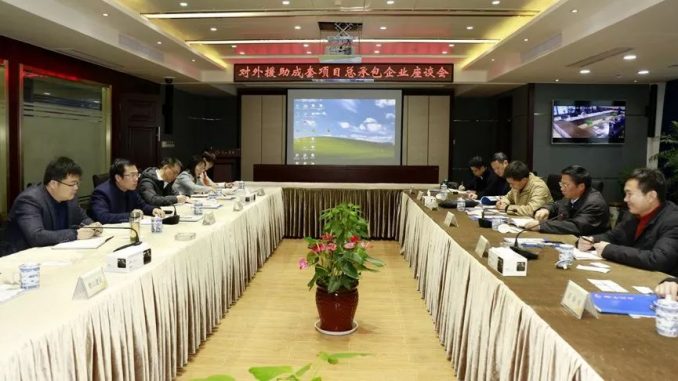 China's development finance models links aid with trade and investment.  One of the core aspects of China's "win-win" approach is that aid should also help Chinese enterprises internationalize. A (WeChat) press release by the Zhejiang province Shunjiang Group 舜江集团 (from 15 December 2017) offers an insight into how Chinese provincial enterprises understand Chinese foreign aid. The group is a private enterprise and comprises several companies, the largest being Zhejiang Shunjian Engineering and Construction Group founded in 1980.
Complete (or "turnkey") foreign aid projects 成套项目 are implemented by Chinese companies who have to apply to tenders 招投标 by the Chinese Ministry of Commerce (MOFCOM) 商务部 or subordinate provincial Departments of Commerce (DOFCOMs) 商务厅. In order to participate in tenders, companies need an accreditation in accordance with the MOFCOM's "Measures for the Qualifications Accreditation of Foreign Aid Project Implementation Enterprises" 对外援助项目实施企业资格认定办法 (2015).
Shunjiang Group and three other Zhenjiang companies (Jiaogong Group 交工集团, Geshan Construction 歌山建设 and Shunjiang Group 舜江集团) have recently obtained the accreditation. On 14 December 2017, Shunjiang hosted a discussion with the Zhejiang Department of Commerce and the three other companies on how to make use of foreign aid in order to promote the "going global" 走出去 of the accredited companies.
Asking the Department of Commerce for support, Shunjiang's Chief Executive Li Biao 李标 expressed that
developing overseas markets plays a vital part in transformation and upgrading of construction companies. Implementing foreign aid construction projects is a shortcut to entering overseas markets. Now that Wujiang has already obtained the accreditation as a Foreign Aid Project Implementation Enterprise, and with the national "One Belt One Road" overall strategic plan being thoroughly implemented, the company's determination and confidence to expand into overseas markets is even stronger.

拓展海外市场是建筑企业转型升级的努力方向,而承建援外项目是企业较快开辟海外市场的捷径。目前,舜江已具备对外援助成套项目总承包资格,加上国家"一带一路"总体战略规划的深入实施,更加坚定了企业拓展海外市场的决心与信心。
(It's noteworthy that while the Chinese Communist Party leadership has issued internal instruction on the "Belt and Road" initiative, banning words like "project" (because the word connotes a goal and timeline, Beijing prefers the looser term "initiative"). Inside China and withing the Chinese language debate that doesn't seem to have too much of an effect.)
The director of the responsible foreign economic cooperation division 外经处 withing Zhejiang DOFCOM Chen Guorong 陈国荣 cautioned the companies that foreign aid construction projects are the face of China' engineering and construction.
Every engineering project represents China's honor. There are extremely vigorous political and relatively high quality requirements…

每一项工程都代表着国家荣誉,有极强的政治性和较高的质量要求 … 。
Those who have followed China's domestic debate about foreign aid in the past years are aware that the Chinese government is concerned about the reputation damage created by various aspects of not-up-to-standard conduct by Chinese companies abroad.
Therefore, Chen Guoring instructed the four companies: despite their accreditation they still needed to increase the level of their knowledge and awareness, and train their personnel for overseas activities and the participation in tenders.
But he also admitted that foreign aid is a shortcut for Chinese companies to enter overseas markets:
Foreign aid projects can not only increase the general level of openness and reputation of [Chinese] companies, it can also drive their "going global". Particularly now under the conditions of "One Belt One Road" there will be more and more foreign aid projects. Companies accredited for the construction of foreign aid projects should grab the opportunity […]

通过援外项目,不仅可以提升企业外向度和美誉度,还可带动企业"走出去"发展。尤其在当前"一带一路"背景条件下,对外援助项目也将随之增多,援外项目总承包企业一定要紧抓机遇 […]
Shunjiang's report sheds light on the disconnect between China's central level foreign aid policies and the implementation of Chinese aid on the ground in recipient countries. It is striking that the stated objectives of Chinese aid, namely "reduce poverty and improve the livelihood" 减少贫困、改善民生 are not mentioned, neither by Shunjiang's CEO nor by the provincial representative of the Ministry of Commerce. The latter does talk about China's image, but not about developmental impacts. Shunjiang's vision of its potential engagement in foreign aid projects seems to be based on purely commercial motives, namely being a successful company in entering overseas markets. This vision is in return supported by the Department of Commerce who urges the companies to "grab the opportunity." If measurable positive development outcomes for the recipient countries are not an explicit objective, provincial companies operate on purely commercial incentives – and believe this is what their (Chinese) government requires. Then it is not surprising, if in the end it's only them who primarily benefit from foreign aid; even if the Chinese central government win-win policy wants it otherwise.