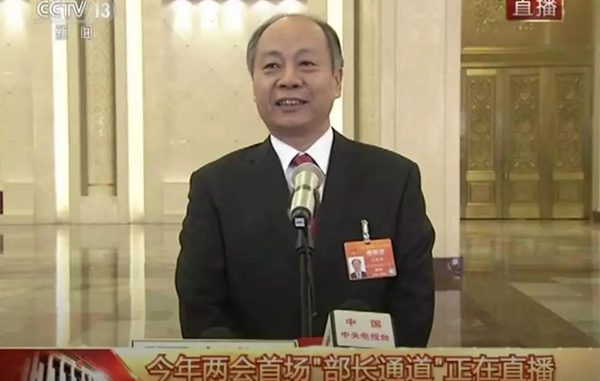 On March 3, 2019, during the "Two Sessions" CIDCA's director Wang Xiaotao 王晓涛 gave a short interview to China's central television, which has been re-posted on various official platforms. Therefore, it's worth to take a closer look at what he said.
The new era puts forward new requirements, and foreign needs to take on new responsibilities. Under the guidance of the diplomatic thought of Xi Jinping, CIDCA will serve great power diplomacy with Chinese characteristics (中国特色大国外交)  and the construction of "Belt and Road" ("一带一路"建设). It will carry on the glorious tradition of China's foreign aid to show the Chinese people's sense of justice and compassion to the international community. We will also work together with other countries and international organizations to implement the UN 2030 Agenda for Sustainable Development and to actively contribute to building a community of shared future for mankind.

At the same time, we have to bear in mind that China is still a developing country. There are development gaps between urban and rural areas. We still have a long way to go in developing and improving the people's livelihoods. Therefore, we have always emphasized that China's foreign aid still falls under South-South Cooperation. Therefore, we have always upheld the important principles of giving aid according to our abilities and doing the best we can.  Therefore, please be assured that we're calculating very carefully and work with a strict budget, making sure that every fen is spent well (确保花好每一分钱).

新时代提出新要求,援外工作要有新担当、新作为,我们将以习近平外交思想为指导,服务好中国特色大国外交和"一带一路"建设,继承中国对外援助的光荣传统,把中国人民的正义感和同情心展示给国际社会,把中国人民雪中送炭、扶危济困的形象展示给国际社会。我们也将和世界各国、和国际组织共同努力,为落实联合国2030年可持续发展议程,构建人类命运共同体做出积极贡献。

与此同时,我们会始终牢记中国仍然是一个发展中国家,地区之间、城乡之间发展不平衡,发展和改善民生的任务还很重。因此我们始终强调中国的对外援助仍然属于南南合作的范畴,量力而行、尽力而为始终是我们坚持的一项重要的原则。我们会精打细算,确保花好每一分钱,也请大家放心,谢谢大家。
What can we learn from this interview?
First, Wang clearly puts foreign aid into a foreign policy context. Under Xi Jinping, aid shall serve China's great power diplomacy and the construction of "Belt and Road". After 1978, political motives lost importance in China's foreign aid policy as compared to economic motives. Question is, are we seeing things reverse now?  While this is yet difficult to say, it is noteworthy that on the sub-page "Leader's activities" (领导人活动) on CIDCA'S homepage, the person that is mentioned most often after President Xi Jinping is the State Councilor and Foreign Minister Wang Yi 王毅 – followed by Yang Jiechi 杨洁篪 who is the director of the Office of the Foreign Affairs Commission of the CPC Central Committee (中央外事工作委员会办公室).
Second, Wang expresses CIDCA's willingness, to work together (共同努力) with other countries and international organizations to achieve SDGs. But, what could "work together" mean practically? This is an important question to ask because so far, the institutional mandate for cooperation with international organizations and bilateral donor agencies has still remained with the Ministry of Commerce (MOFCOM) – that was in charge of aid management before establishment of CIDCA. Nevertheless, for those who are thinking of joint projects with CIDCA, SDGs could be a docking point.
Third, Wang emphasizes that China is still being a developing country and Chinese aid a form of South-South Cooperation. This is a signal to all those who were wondering whether CIDCA's establishment could be interpreted as a step towards OECD DAC standards or even China joining the DAC. The answer is clearly no. There may be several reasons to this renewed rejection. On the one hand, giving up the status of a "developing country" would weaken China's political position globally, since China describes itself as the "largest developing country" and therefore the leading voice of "developing countries". On the other hand, complying to international standards would make Chinese aid and development finance, particularly in the infrastructure sector, more expensive. But there may be a third, equally practical reason: the Chinese aid bureaucracy still lack the necessary amount of qualified aid professionals who could ensure that standards are maintained. While CIDCA pooled the aid staff from MOFCOM and MFA, there has been no significant increase in staff numbers. 
The last point of Wang's interview is about aid funds. His quote, "Chinese aid will make sure that every fen is spent well" (中国对外援助要确保花好每一分钱), has been used as a headline by some media outlets who reported about the interview. How to interpret it? Clearly, here Wang addresses the Chinese public that is largely critical of China's aid spending. It is rather common to read in Chinese online fora statements like "Why are we wasting money in Africa on shiny infrastructure projects when we have so much poverty at home?"